The finalists have been invited to pitch to an international jury at an event in the Netherlands on May 28 and 29, with the top three going on to present at F&A Next the following day. The winner will receive a validation trial in one of Nutreco's research farms. 
The 10 finalists and their proposed solutions are: 
Bacteriophage chicken feed additive as alternative to antibiotics (Cytophage Technologies)
Biome Modulators (Folium Science)
Blue Lice's Smart System Preventing Sea Lice on Salmon (Blue Lice)
ChickenBoy - a robot for broilers (Faromatics)
From Wood to Food  (Arbiom)
Microalgae-based ingredients: alternative resources in the feed industry (Inalve)
NatuAXTM - Novel combination of β-Glucan and Astaxanthin from unique high-yield strain of Phaffia rhodozyma to disrupt the use of antibiotics in livestock and aquaculture (Bioproton)
Rex Animal Health - Big Data and Machine Learning for Optimized Yield and Disease Management (Rex Animal Health)
Serket - AI and computer vision for Livestock Health Management (Serket)

Once you gather 20 votes, you will be asked to submit a business case to nutrecofeedtechchallenge@nutreco.com
This document (and your application) will be evaluated by the Nutreco Feed Tech Challenge team and the jury to select the 10 finalists that will be invited to the Netherlands for the final event.
Use any format you prefer but make sure you cover most of this questions (also attached in pdf) and that you submit the document before 7th April 00:00 GMT.
Good luck!
Describe the problem your company wishes to solve.
Describe how your products or services will solve the problem
Describe your market. Who are the customers and how big is the market.
Describe your value proposition. Why would customers buy your solution?
Describe the business model. How will the business generate money?
Describe the Competition and Risks.
Describe the Investment and Return. How much does the business need, how will the money be used, when will it be paid back and what will be the return?
Financial summary, what are the key financials?
The management team, who is in the team and what are your strengths.
What are the next critical steps?
Stage of your company. Funding already raised and needed
Accelerators, incubators and other competitions or awards

You have less than a week to submit your innovation in Feed Tech and have a chance to win a validation trial in Nutreco's R&D farms and a full validation report! 
...and...every contestant is a winner...check the experience of MicroSynBiotix and Fodjan 
The Challenge is a unique opportunity to connect with other start-ups, industry experts and scientists, and ultimately with farmers and the rest of the world. 
The 10 best ideas will be invited to our headquarters in the Netherlands, where they will receive further feedback and training in pressure cooker sessions during the two-day event.
...and the top 3 will pitch at F&A Next , the event -to-be for start-ups seeking funding!
Do not hesitate!
Do it!!
The prize for the Nutreco Feed Tech Challenge - a validation trial - offers the winner a true test. It helps speed up development and provides an unforgettable experience. We know that validation and knowledge about how to apply new technologies to a real farm environment are crucial for farmers to embrace innovation.
We think that this challenge, and in particular the validation trial, can provide a significant contribution to bringing new breakthrough innovations into life. This is a 'money-cannot-buy' opportunity, the only way to get access to Nutreco's expert service and its world-leading research facilities. 
Nutreco's innovation and R&D activities are driven by the belief that we must bring knowledge and technology to the market in a way that is fast and effective, with a sound research backing. We translate world-class research into practical, economic and sustainable nutritional solutions.
We have five Trouw Nutrition research centres for swine, ruminants, poultry and ingredients and five Skretting research centres for fish and shrimp.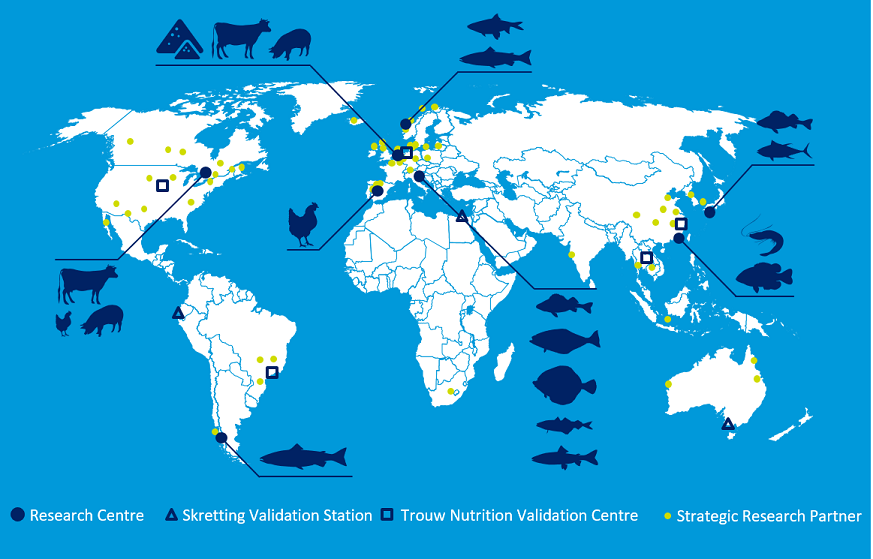 To further validate the effectiveness of our global products, we carry out scientific studies by collaborating with the leading universities, leading opinion leaders and key customers in the respective regions and countries.
The extra bonus of the validation prize is that it is a chance to attract the attention of the public, the press and of investors and partners that may be able to take the concept to a next level.
We can't wait to see what this year's challengers will bring! Good luck!
Sophie Noonan (Skretting Aquaculture Research Centre) & Fleur Brinke (Trouw Nutrition R&D)

We have received some questions regarding the ownership of intellectual property rights and we have decided to come forth with this blog to explain all the ins and outs and answer any question you might have.
We respect the ownership of intellectual property, your IP remains yours. We will not ask you at any time to waive any rights you may have in relation to the submission, any IP rights and responsibilities will remain with you/ the inventor.
Nutreco does not retain any ownership of the idea upon application. You retain full and exclusive ownership of your information and intellectual property rights. Any idea you submit will only be used by Nutreco for the purpose of evaluating your application
The Nutreco Feed Tech Challenge is an open innovation platform, that is why you should not submit any confidential information. If you cannot submit your solution without disclosing confidential information, please contact me separately.
By submitting an idea you confirm by the best of your knowledge that you own all IP and that you don't infringe any third party's IP
As you know, if you win you will get a scientific on-farm validation trial, including extensive validation report. This is the ultimate test of your innovation and will belong to you.
Please read the Nutreco Feed Tech Challenge Terms and Conditions  (specifically 18, 19, 20) before submitting your solution. 
If you have any question I am here to answer them

The first edition of the Nutreco Feed Tech Challenge was launched in November 2016 with the goal of connecting start-ups, industry experts and scientists in an attempt to support innovation related to nutrition tackling antibiotic resistance, feed-to-farm efficiency or early animal diets. 
44 start-ups submitted their solutions to Nutreco's open innovation platform. The 10 most promising solutions were invited to the final event in the Netherlands. Have a look to the after movie in our Vimeo channel

The final event offered a dynamic 'greenhouse & pressure cooker' environment with workshops and interaction with the jury. The objective  was to further nurture and enrich these high potential concepts. The participants were trained in IP, storytelling and business modelling.
MicroSynbiotiX won 2017 edition of the Nutreco Feed Tech Challenge. According to the jury report, the innovation of MicroSynbiotiX had the best fit with the challenge profile: a real game changer with high potential, operating in an area where few other companies are active. MicroSynbiotiX is developing a cost-effective delivery platform for oral vaccines to combat diseases and infections in aquaculture, through a novel method of locking the vaccine in genetically modified microalgae. Their product is currently been tested in our R&D facilities. In addition, we have research collaborations and partnerships with 4 other finalists. 
What is your breakthrough innovation – that CANNOT wait?
Join the challenge! 
Submit your idea! 
Load more